Enjoy a Shuvlhed Show
Tour Dates
No Events
Who is shuvlhed
Biography


Shuvlhed has been rocking The Northern Illinois Area since 2004.

Shuvlhed has set themselves apart from the rest of the local bands as a top contender in the local Rock n Roll arena. As Shuvlhed not only plays a vast variety of your favorite rock n roll covers, but is able to throw out an arsenal of original music that captivates the audience and makes you want to come back for more.

A powerful 5pc and a local favorite in the Northern Illinois area, Shuvlhed continues to build a wide fan base, hitting clubs & festivals from Rockford to DeKalb to the Western Suburb's. Shuvlhed has been nominated for several RAMI's and was a awarded a Rockford Area Music Industry award for the 2007 "New Act" and again in 2009 under the Rock category.

Shuvlhed has had the privilege of playing both Spring and Fall Groove Walk's produced by On the Waterfront Inc, The Young at Heart Festival, Byron Fest, Davis Junction Weekend in the Park, Kirkland 4th of July, Genoa Days, Malta Fest, Stillman Valleys Fall Fest, Oktoberfest and Dekalb's Corn Fest.

In May of 2009 Shuvlhed released its long awaited 16 track debut album titled "Never Rest" and in December of 2011 Shuvlhed began recording their next album tentatively titled "Live Forever".

In 2012 Shuvlhed released it's 2nd album titled "Live Forever". In 2012 Shuvlhed had learned that two songs off the Never Rest album had been chosen to be in an upcoming indie feature film called "Wedding bells & shotgun shells. Also the title track Live forever, was also chosen to be in an indie thriller called The Bar B Gurlz.

Shuvlhed has also teamed up with Mustang Restorations from Chicago to add original music to their weekly web show called "Operation Mustang".
All Things Shuvlhed
Recent News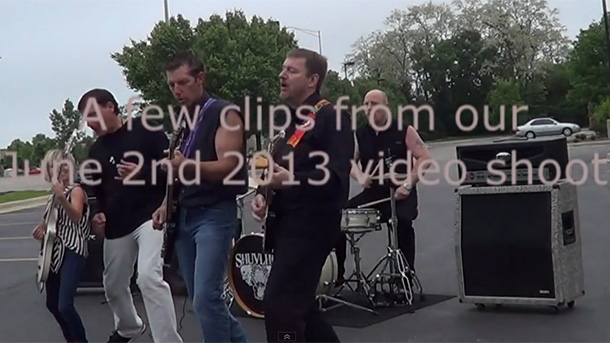 Here is a quick video from the shuvlcam. We were on location in Chicago shooting some scenes.
Last week at band camp, we auditioned this song to person from Chicago that's been auditioning bands for a really awesome video project that he hopes will go viral. Out of all the bands, he picked us for his project~stay tuned. http://youtu.be/nX29uauGk-E